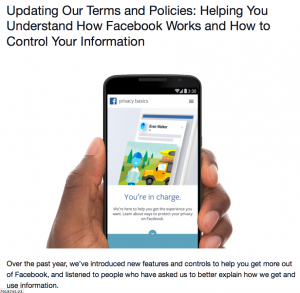 Did you see this Data Policy Notice when you last logged into Facebook? I read it, and cringed because it's so badly written. I've had a go at rewording some of the worst bits. Please let me know what you think in the comments below. Thank you.
Headline before

Updating Our Terms and Policies: Helping You Understand How Facebook Works and How to Control Your Information
Too long. Too dull. Even though it uses the words You and Your more than Our, the tone of voice is too 'top down'. Doesn't accurately reflect the content of the update. Uses Camel Case (Initial Capitals) That Some People Find Harder to Read.
Headline after
New T&Cs from 1 Jan: Learn how to control your privacy settings, choose which (if any) ads you see, and get the best experience of Facebook. Continue Reading →