Why am I modelling a hoodie with 'newsletter genius' written on the back? Because my Writing Without Waffle tipsheet was awarded 'newsletter of the week' by Constant Contact, and they asked me to send a picture of me wearing my prize that they could share on their social media platforms. My tipsheet has also won their 'all star' award for five years running. More importantly, it wins me business. I can help you write a newsletter that works for you too.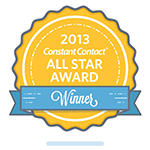 Research shows that 68% of customers leave a business because of 'perceived indifference'. One way to retain your customers is to keep in touch with them via a newsletter. However, in a world where inboxes are full of unwanted emails, how do you make your newsletter stand out and be read? On this masterclass, you will learn how to write subject lines that get clicked, what to include in the body content, and which are the best tools to use for bulk emailing.
Course Aims
This half-day course is designed to help you write a newsletter that gets results. You will come away with the skills you need to write and distribute effective newsletters to your mailing list.
Why sales emails are not effective
What to call it instead of 'newsletter'
Building your mailing list
Offering an incentive to subscribers
Rules of writing 'news'
What content works (and what doesn't)
Boosting your open rate
Encouraging click-throughs
Bulk email distribution tools
Anti-spam law
Who should attend
This course is ideal for business-owners and marketers who want to communicate regularly with their customers in order to build relationships and drive more sales
Requirements
Optional: Please bring samples of any previous newsletters you have produced
When and where
This half-day course can be run on demand at a venue of your choice, anywhere in the English-speaking world

Find out more