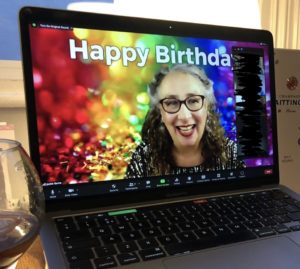 I was recently invited to facilitate an online 50th birthday party (which is why I'm all sequinned up in the pic, right).
I ran a series of games based on Articulate, Charades and Pictionary using clues customised to fit the host.
I really enjoyed it, and could see the guests roaring with laughter. Even those who'd said they didn't fancy the idea admitted afterwards they'd really enjoyed it.
The challenge is convincing people in advance that Zoom games can be fun! They really can.
Contact me if you'd like to try this at your next party. The games also work at business and networking events, because the clues will be created bespoke to suit you.